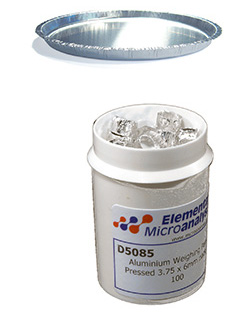 Download our PDF for details of our wide range of weighing pans and boats.
Weighing pans and boats available in Tin, Aluminium, Silver, Platinum, Copper or Nickel
Standard weight, light weight, heavy weight specification
Precision manufactured diameter (mm), length (mm), height (mm) depth (mm) and volume (mm3)
With or without handling tab
Variety of pack sizes
Forceps and Tweezers
These products offer the same high quality and value for money that is typical of Elemental Microanalysis' entire product range.
Available to order from our ISO 9001 factory online, by email, telephone or fax. Elemental Microanalysis offers extensive knowledge of analysis, over 40 years of experience.
Additional Information available
:
Weighing pans and boats.pdf