As part of our company outreach program Elemental Microanalysis Ltd have decided to choose two local charities and fundraise to help them along.
Company Director Ian Smith has offered to substantially fortify our fundraising, so this page is all about the charities we have chosen and the activities we have undertaken / plan to undertake to raise money for them.
Childrens Hospice South West (registered charity 1003314)
Children's Hospice South West (CHSW) was founded in 1991, to help and support children and their families who are living with life-limiting or life-threatening conditions.
In 1995, Little Bridge House, the South West's first children's hospice opened its doors to families from across the South West. CHSW now has a chain of children's hospices covering the South West, to 'make the most of short and precious lives across the South West'.
Families can come to these hospices for planned respite and a rare opportunity for a break, but they can also turn to CHSW for emergency care and, when the time comes, for palliative and end-of-life care.
Services are free to families who need them, but with little government funding, CHSW relies on the generosity of supporters.
Elemental Microanalysis Ltd has pledged to raise £1000 this year as part of CHSW sponsor a nurse scheme. You can find out how we are doing by visiting our fundraising page or reading below.
ShelterBox (registered charity 1096479)
Established in the year 2000, ShelterBox have responded to earthquakes, floods, volcanoes, tsunamis, hurricanes, landslides, typhoons and conflict, delivering emergency humanitarian aid around the world to communities in need.
Since ShelterBox was founded, they have responded to over 250 disasters and humanitarian crises in almost 90 different countries and provided emergency aid for well over one million people.The name ShelterBox derives from the compact box this customised equipment is delivered in.
Contents vary according to requirements, but can typically include a disaster relief tent for family, thermal blankets, groundsheets, water storage, purification equipment, solar lamps, cooking utensils, a basic tool kit, mosquito nets and children's activity pack.
A complete ShelterBox will provide a family with the shelter and other vital equipment they need. Our aim was to fundraise enough to finance one of these. Find out how we did below (See Kate and the Chester Marathon).
ShelterBox deployments (active and previous) can be viewed via this link.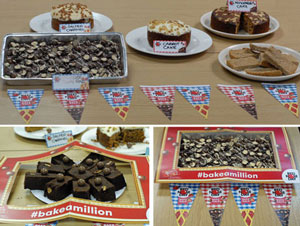 Bake sale for Red Nose Day 2017
Our staff had a great day baking and eating as much cake as possible for charity, on Red Nose Day this year.
We raised a total of £51.50 for the appeal, and probably gained a few pounds ourselves in the process!