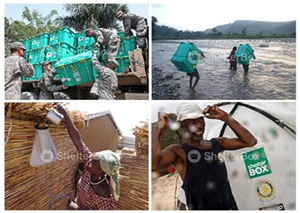 ShelterBox
We are aware that 2021 has been another difficult year for many people therefore, after receiving so much positive feedback last year, we have again chosen to make a donation on behalf of our dealers to ShelterBox - a charity working internationally and based not far from EMAL's facility here in the Southwest of England.
For details of their Christmas appeal: http://ow.ly/OoYX30s1y5H
Our donation will include a kit with a selection of the following essential items needed for basic survival: water filter, kitchen set, tarpaulin, solar light, rope, high thermal blanket, mosquito net and water carrier.
More details of the individual aid items can be found here: https://www.shelterbox.org/about/aid/
ShelterBox work with disaster-affected communities to provide the emergency shelter, essential items and training needed to support families in the long process of rebuilding their lives with teams travelling by foot, boat, helicopter or tuk-tuk to get to the families who need support.
A list of current aid responses can be found here https://www.shelterbox.org/where-we-work/
All of us at Elemental Microanalysis would like to thank you for your continued support throughout the past year, we are all proud and thankful to work with you. Thank you for helping to make this donation possible.
Children's Hospice South West (CHSW)
This year, for the 2021 winter holidays, Elemental Microanalysis will be donating to Children's Hospice South West, in lieu of providing gifts to customers.
We invite you to join us wherever and however you can, in helping to make the most of short and precious lives. If you would like to see for yourself just how much of a difference every contribution makes, please read CHSW's inspirational stories from staff and families
www.chsw.org.uk/about/inspiring-stories
.
Children's Hospice South West (CHSW) is a wonderful regional resource to parents and their children with life-limiting illnesses. Founded in 1991, by Eddie and Hill Farwell out of their personal experience needing hospice support, CHSW has grown to support families across the South West. With three locations, CHSW have ensured that no family has to travel more than 90 minutes by car to reach their nearest children's hospice in the South West.
CHSW has been absolutely committed to making the most of short and precious lives. The care offered at each of hospices is not simply about medical and nursing care for sick children, but about enriching the lives of children and their families. At CHSW, the care team often hear families talk about the 'treasure chest' of special memories they build to carry into the future, which will sadly be without their much-loved child or children.
In these times, more than any other, creating a network of care, support and love in our local communities is critical. As a Devon-based business for more than 40 years, Elemental Microanalysis is honoured to support CHSW in the important work they do caring for more than 500 children with life-limiting conditions and their families each year at both the CHSW hospices and, if necessary, in families' own homes.

Elemental Microanalysis decided to work together to fundraise and help charities. This page is about the charitable organisations and the fundraising activities undertaken so far.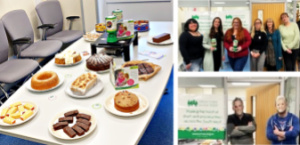 March 2022. Great British Bake Off for Childrens Hospice South West
Our team created an in house bake-off fundraiser for Childrens Hospice South West (CHSW) complete with our own discerning judges. Thanks to all who took part and congratulations to star baker Maddey!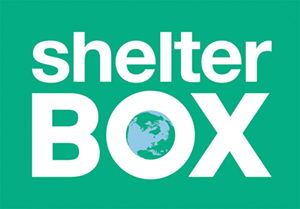 December 2020. Donation to ShelterBox
2020 was a very difficult year for many people and anything but business as usual. We chose to make a difference in our current world with a charitable gift donation.
Therefore, a donation was made on behalf of our Dealers to ShelterBox.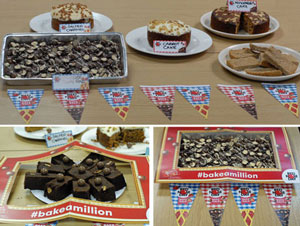 March 2017. Bake sale for Comic Relief
Elemental staff brought in baked goods and sold them to raise money for Comic Relief, a charity that strives to create a just world, free from poverty.
A total of £51.50 was raised for Red Nose Day, Comic Relief appeal.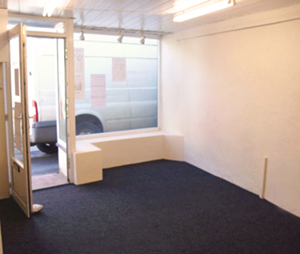 January 2016. Age Concern Okehampton (ACOT)
ACOT supports people of all ages to make life for older people better. This could involve help with long term or complex health isuues or social care challenges.
ACOT runs a drop in centre in Okehampton; the premises required a refresh. EMAL employees Emma, Brian, Martin and Craig offered to help and EMAL purchased the required raw materials. They cleared, cleaned, sanded, painted and engaged local tradespeople to help with the tasks and supplies too.
Travis Perkins supplied materials at a discount. SK Plastering oversaw the dismantling of the floors, sealed the main shop window and rendered the window sill to create a new window seat. Electrician Anderson and Philips tidied up cables, sockets and fitted new lights.
Over 130 hours were spent working on the ACOT refurbishment project. ACOT is pleased to be operating in their refreshed premises and are very thankful to both the EMAL team and the local trades.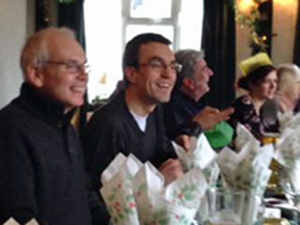 December 2015. Festive fundraising
Homemade mince pies with lots of clotted cream got us all in the festive spirit at the beginning of December. This and the Christmas raffle raised over £330 for Children's Hospice South West.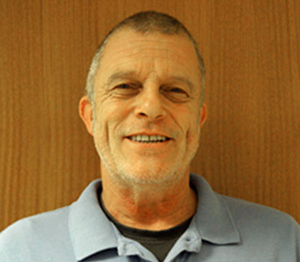 July 2015. The £50 challenge
The £50 Challenge is all about using your business skills and innovation to generate as much money as possible for Children's Hospice South West (CHSW) with the £50 start-up investment from them.
Les took on the £50 challenge and has so far raised £276 by starting up a tuck shop in his local pub.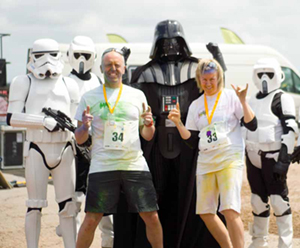 June 2015. Rainbow run
Congratulations to Emma and Brian who were well and truly covered in paint by the finish line of the 5km Devon Rainbow Run for Childrens Hospice South West.
Brian and Emma would like to thank you for your generous donations and sponsorship. £450 was raised. We hope it doesn't take too long to scrub all that paint off!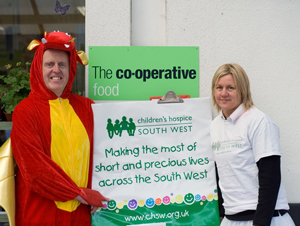 May 2015. Fundraising for Devon Rainbow Run
Emma, Brian and their assistants continued their fundraising for the Children's Hospice South West Rainbow Run outside the Co-operative supermarket in Okehampton. Thank you to the Co-op and all donators, they collected over £200.
Good Luck to them both for the 13th of June.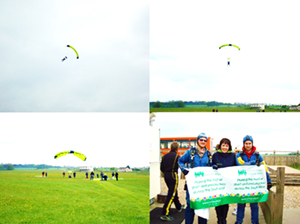 March 2015. Skydive for Childrens Hospice South West
Andrew and Martin have been raising funds for Children's Hospice South West. Yesterday they completed sponsored parachute skydives from 15,000 feet, the highest altitude in the world without needing extra oxygen.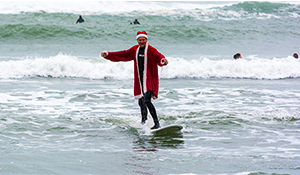 December 2014. Sponsored Santa Surf
Martin and Brian chose their best Santa surfing outfits and headed into the sea at Widemouth on the 21st of December with their surfboards to raise money for Childrens Hospice South West.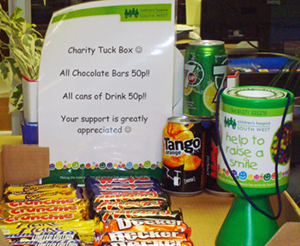 November 2014. The office tuck shop
Set up in November 2014 this is a tuck shop with a difference – all the proceeds are going to Childrens Hospice South West.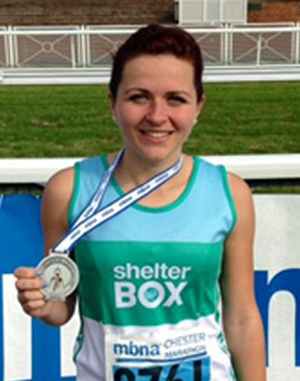 October 2014. Kate and the Chester marathon
After months of training and gathering sponsorship, Kate took on the 26 mile Chester marathon in October 2014. EMAL added a further £500 of sponsorship.
Kate finished in under 4.5 hours, she also managed to raise over £1300 for ShelterBox – enough for two complete boxes in addition to other essential supplies.
Congratulations to Kate.