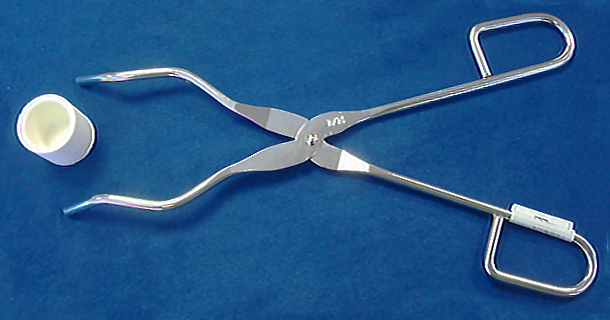 Tongs for large crucibles (23mm or greater in diameter)
Typically used with ceramic crucibles. Long and wide handled; allows for use of heat protective gloves. See Fig.1
Tweezers for medium crucibles (14-22mm in diameter)
Shorter in length with wooden handle pads, these stainless steel tweezers are typically used in Inorganic, Macro and Nitrogen protein analysis. See Fig.2
Part Number

Description

Tweezer length (mm)*

160

Suitable crucibles are 14 to 22mm diameter
Tweezers for small crucibles (under 14mm diameter)
See Fig. 3
Forceps for capsules (tiny sample encapsulation typically for micro analysis)
See Fig. 4
130

140

Suitable capsules for tiny sample encapsulation
The crucibles, inserts, capsules, boats, baskets etc specified here are examples of compatibility but are not an exhaustive list. Our friendly sales team can help you find the most suitable tongs, tweezers or forceps for your laboratory's sample containment and transfer needs.
These products offer the same high quality and value for money that is typical of Elemental Microanalysis' entire product range.
Available to order from our ISO 9001 factory online, by email, telephone or fax. Elemental Microanalysis offers extensive knowledge of analysis, over 40 years of experience and a worldwide reputation for excellence.
Additional Information available
:
Tongs tweezers and forceps.pdf