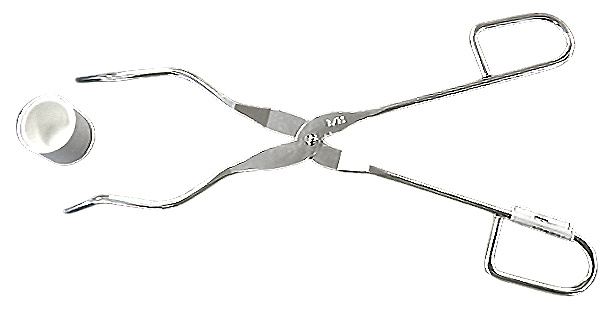 Which tongs, tweezers or forceps should you use with your crucibles, inserts, capsules, boats and baskets?
Tongs for large crucibles
For crucibles that are 23mm or greater in diameter, our 250mm long, wide handled stainless steel tongs (part number E2471) allow for the users heat protective gloves. Crucibles of this diameter are typically ceramic.
E2471, stainless steel tongs for crucibles of 23mm or more diameter
Part number
Description
C4065
Porous crucible
C4218
Large ceramic crucible
C4220
Ceramic crucible
C4500
Ceramic crucible
C4516
Ready-to-use crucible
Tweezers for medium crucibles
If you are using crucibles that are between 14 and 22mm in diameter, the tweezers we recommend are E2472, crucible tweezers. At 160mm in length these tweezers are shorter than tongs; with heat resistant wooden handle pads, these stainless steel, reverse-action tweezers are typically used in inorganic, macro and nitrogen protein analysis.
E2472, crucible tweezers for crucibles between 14 to 22mm diameter
Part number
Description
C1053
Crucible, silica
C1054
Removable swarf crucible
C3058
Ceramic crucible
C1141
Porous ceramic insert
C3064
Metal crucible
C4619
Graphite crucible
Tweezers for small crucibles
E2468, 160mm length tweezers are perfect for use with crucibles, baskets or capsules under 14mm diameter. These self-closing, stainless steel tweezers feature straight points and heat-resistant wooden handle pads.
E2468, tweezers for crucibles, baskets or capsules up to 14mm diameter
Part number
Description
C1005
Silica crucible
C4506
Quartz crucible
C4646
Graphite crucible
D3508
Nickel capsule
D9154
Nickel basket
D9155
Ultra high purity nickel basket
Forceps for capsules
We have a range of stainless steel precision forceps to securely fold and grasp tiny samples for transfer. Typically used for tiny sample encapsulation for micro analysis our range features curved, blunt or curved points and a smooth or serrated jaw.
Part number
Description
E2016
Forceps, curved points, serrated jaw
E2017
Forceps, straight points, serrated jaw
E2018
Forceps, blunt points, serrated jaw
E2293
Forceps, curved, serrated jaw
E2294
Forceps, smooth jaw
Forceps for capsules
Part number
Description
D1008
Pressed tin capsule 8 x 5mm
D1060
Tin foil discs 11mm diameter
D1062
Tin squares 22 x 22mm
D4007
Smooth wall tin capsule, 18 x 6mm
D4100
Copper capsule 18 x 6mm
D5004
Platinum weighing boat
D5032
Tin boats, 8 x 8 x 15mm
D9004
Cel capsules, small
The crucibles, inserts, capsules, boats and baskets specified here are examples of compatibility but are not an exhaustive list.
If you would like to order these products, reach out to our friendly sales team enquiries@microanalysis.co.uk or register to view our product pricing online.⁠ Elemental Microanalysis has 45 years experience manufacturing and supplying quality products with exceptional service and affordable pricing.
Additional Information available
:
Crucibles, tongs and tweezers.pdf