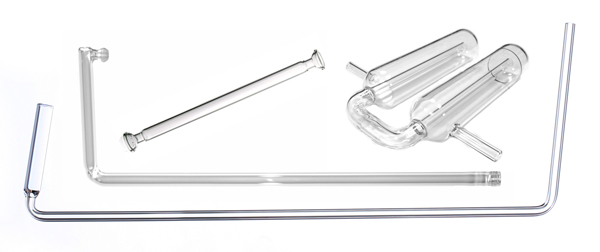 Linear, Asymmetrical, Classic and U-Tube shapes
Height, diameter and details of end style with our linear, asymmetrical, classic and U tube shaped scrubber tubes can be found in the Scrubber Tubes.pdf attachment at the end of this post.
Elemental Microanalysis manufactures many "non-standard" scrubber tube shapes too. The advanced search on our homepage identifies the equivalents we supply.
Please contact us if you require additional product specification information. Data included in the pdf below is the information required to ensure compatibility of scrubber tube with OEM e.g. Elementar® analyser or OEM part.
Custom-made and Specialist glassware
Elemental Microanalysis also supplies custom products ranging from 6mm to 100mm in diameter, with a variety of end styles, caps, and seals, all manufactured in an ISO 9001 environment by our team of experts. Production runs from one-off prototypes to 1000 or more can be easily accommodated.
Reagents, O-rings and seals, Caps
Produced in our ISO 9001 facility in the UK, Elemental Microanalysis can provide everything you need to pack your scrubber tube.
Magnesium perchlorate, Sicapent®, soda lime, sodium hydroxide / EMASorb are just some of the typical scrubbing reagents available in pack sizes from 25g to 800g. We also supply a huge range of scrubber tube caps and fittings, O-rings, seals and quartz, glass or cotton wool.
Prepacked Scrubber Tubes
Our product range includes prepacked scrubber tubes. Produced as OEM equivalents and expertly packaged to ensure preservation of reagent. Our website will help you find the product you are looking for.

These products offer the same high quality and value for money that is typical of Elemental Microanalysis' entire product range. Available to order from our ISO 9001 factory online, by email, telephone or fax. Elemental Microanalysis offers extensive knowledge of analysis, over 40 years of experience and a worldwide reputation for excellence.
Additional Information available
:
Scrubber Tubes.pdf