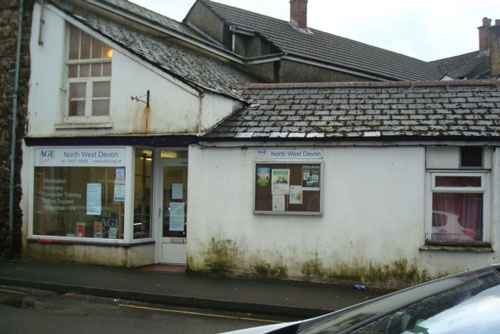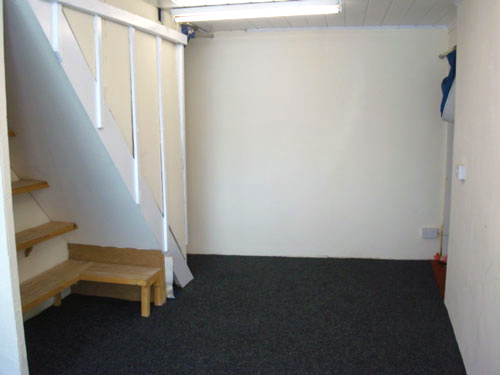 In January 2016, our determined group of charitable employees, Emma, Brian, Martin & Craig undertook the task of helping to refurbish the Age Concern Drop in Centre in Okehampton. The team undertook the tasks of sanding and scrubbing walls, even taking up a tiled floor and ripping out old shelves as they prepared the shop for renovation.
The Okehampton branch of Travis Perkins were unfailingly kind in their generous discount on paint and brushes needed for the redecorating process.
Help was also at hand from the owner of SK Plastering, who oversaw the dismantling of the floors, sealed the main shop window to prevent water from coming in; pausing only to render the window sill which is now a fantastic feature in the shop as a comfy window seat.
Several coats of paint later our team decided to wash down the outside walls rather than attempting to apply paint during the unpredictable Dartmoor weather.
Finally, our local Electrician at Anderson and Philips popped in to tie up the loose ends: tidying up cables and sockets, as well as fitting new bulbs to add the finishing touches to the team's hard work.
Overall, over 130 hours was spent working on the refurbishment project and was completed by mid-April, all thanks to Brian, Emma, Martin and Craig.
Elemental Microanalysis is launching it's first ISO 17034 Certified Reference Materials, following successful accreditation as a reference material producer.
Expertly made in our ISO 9001 factory premises in the UK, these frequently used sample containers are an essential staple for every laboratory. Available in a broad range of materials, dimensions and pack sizes, our weighing pans and boats can be quickly despatched to you.
Elemental Microanalysis Ltd manufactures a vast range of scrubber tubes. With such a variety of shapes, dimensions and end fixings it can be a daunting task to correctly identify the tube you need.