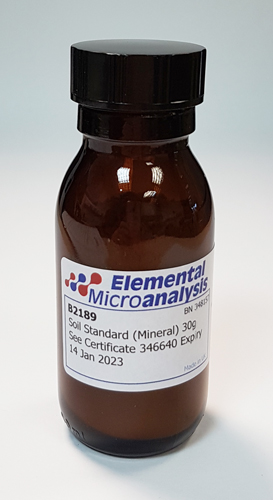 This new standard is intended for use as a routine working analytical standard, and complements the existing range of soil standards that are available from Elemental, (see table, below).
It is also available as part of a set of seven soil standards, part B2196.
Soil Standard (Peaty)

Soil Standard (Sandy)

Soil Standard (Silty)

Soil Standard (Clay)

Soil Standard (Loamy)

Soil Standard (Chalky)

Soil Standard (Mineral)

Set of 7 soil standards – contains B2176, B2180, B2182, B2184, B2186, B2188, B2189
These products offer the same high quality and value for money that is typical of Elemental Microanalysis' entire product range.
Available to order from our ISO 9001 factory online, by email, telephone or fax. Elemental Microanalysis offers extensive knowledge of analysis, over 40 years of experience and a worldwide reputation for excellence.
Additional Information available
:
mineral soil standard.pdf