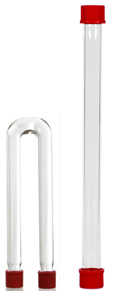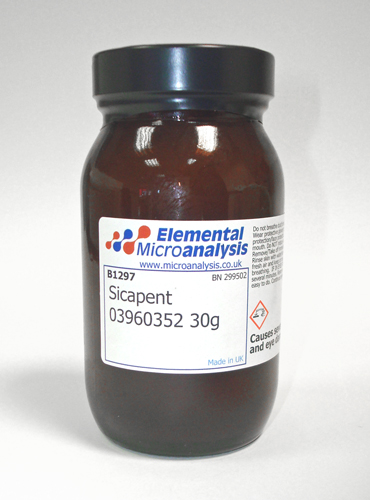 In the Elementar® range of analysers, Sicapent® is used as a drying agent. It is an extremely effective desiccant but is hazardous, as it is phosphorus pentoxide on a support. It is hygroscopic and will form phosphoric acid in contact with water.
Various drying tubes compatible with Elementar® analysers are also offered, as shown in the product table above.
Elemental Microanalysis can provide all the products required for filling these drying tubes ready for analysis, – including very fine quartz wool and Sicapent®, a stainless steel ladle (E2001), and funnels (E2526, E2527) for easy transfer of Sicapent® into the tubes. We have now introduced a 30g pack of Sicapent®, which can ship as excepted quantity, and will not incur a hazardous surcharge.
Quartz wool was specified to plug the ends of drying tubes for the early Elementar® analyzers such as the vario EL III®, and the rapid N®.
However, fine pieces of this wool may come loose and might cause solenoid valves to fail. For this reason, users may prefer to try the alternatives of our E1174 Filter, or E2516 Cotton wool, for plugging the drying tube ends. These are equivalents to the filters and cotton wool now specified by Elementar® for their newer cube analysers.
Our website also features a video with step-by-step instructions on the process of filling drying tubes here:
http://www.elementalmicroanalysis.com/instructional-videos.php
These products offer the same high quality and value for money that is typical of Elemental Microanalysis' entire product range. Available to order from our ISO 9001 factory online, by email, telephone or fax. Elemental Microanalysis offers extensive knowledge of analysis, over 40 years of experience and a worldwide reputation for excellence.
All trademarks acknowledged. Use of the Elementar® part number is for reference only and does not imply that the products are of Elementar® origin. All Elemental Microanalysis products are guaranteed to be of high quality and suitable for use in the stated application.