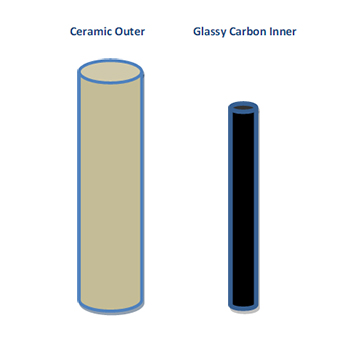 It has been reported that the highly expensive glassy carbon tubes used in these systems can be subjected to oxygen attack if installed in combination with a used ceramic outer.
This may also be observed if the ceramic has been temperature cycled frequently. The effect has been attributed to micro fractures forming in the ceramic caused by aluminium and oxygen atoms of the structure becoming mobile at the elevated temperatures.
Visually, the tube appears unaffected.
To avoid this, it is recommended to change the (relatively inexpensive) outer ceramic whenever the glassy carbon tube is replaced.
| | | | | | |
| --- | --- | --- | --- | --- | --- |
| OEM | Analyser | Ceramic Part no. | Ceramic Dimensions (mm) | Glassy Carbon Part No. | Glassy Carbon Dimensions (mm) |
| Thermo | TC/EA | C1101 | 17 x 13 x 470 | C7001 | 12 x 7 x 356 |
| Thermo | Flash HT | C1105 | 17 x 13 x 450 | C7001 | 12 x 7 x 356 |
| Hekatech | HT-O | C1103 | 19 x 15 x 470 | C7004 | 12 x 9 x 400 |
| Eurovector | HT-pyrOH | C1102 | 17 x 13 x 450 | C7004 | 12 x 9 x 400 |
| Elementar | Pyrocube | C1106 | 30 x 23 x 387 | C7017 | 18 x 14 x 432 |