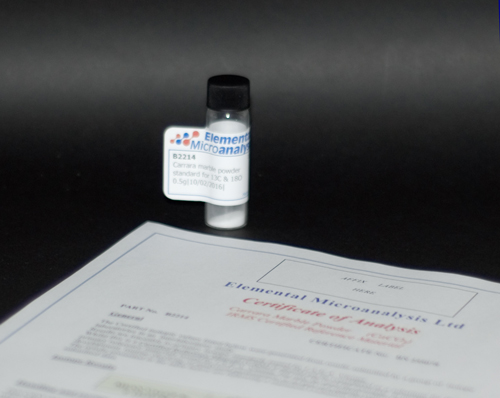 Elemental Microanalysis now has available a new IRMS Reference Material.
This is Carrara marble powder (0.1-0.3mm) with consensus values for 18O/16O and 13C/12C isotope ratios determined through a statistical treatment of data produced via an interlaboratory study.
Whilst it has similar composition and isotope values to the now exhausted primary standard marble NBS-19, it is not intended to be a replacement for this as, for example, an 18O scale anchor, but can be used for instance in method development, routine checking of analytical performance and as part of a quality control programme.
· Homogenous batch of Carrara Marble Powder
· Values traceable to primary standards issued by I.A.E.A.
· Product available to order online, by telephone, email or fax
· Elemental Microanalysis offers extensive knowledge of analysis, 35 years of experience and a worldwide reputation for excellence
Additional Information available
:
Carrara Marble without Prices.pdf